This week I took a free motion quilting (FMQ) class at Strawberry Patches. I really like the teacher and I had very enthusiastic classmates. I really enjoyed spending an entire day on my hobby. I have to say that FMQ is a lot harder than I thought it would be. I thought that since it was with a machine, it would be easy like sewing lines. Wrong! Once the feed dogs on the machine were dropped, I was completely in charge of the stitch length and speed by how quickly I moved my hands and the speed of the machine. It was like rubbing my stomach and patting my head. I did improve as the day went on but it will take some time to build my confidence enough to FMQ an entire quilt.
This is the sampler square we started with. Each square was a different technique we were supposed to work on.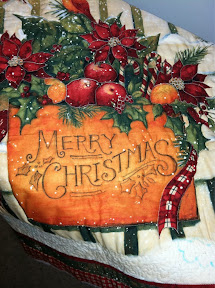 Next, we had to work on a cheater panel (I had to ask what that was and I found out it's a pre-printed panel that looks like a pieced quilt). I bought mine at Hancock and I chose something I didn't care about since it was practice.
My instructor helped me figure out different patterns to try. I was glad for the variety of technique practice this panel offered.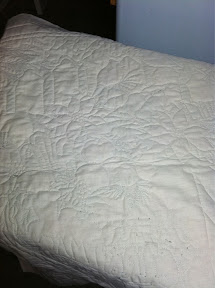 Here is the back where you can really see all the stitching. It was a lot of fun to learn and I would really recommend this class to anyone interested. I still feel like I have a long way to go, but I'll have a lot of fun practicing.