I finished my quilt and I love it! After I finished quilting it, I had to pick a fabric to bind it. After thinking about all the possibilities I settled on the black and white dot fabric. The problem was I bought the the dot fabric as a remnant and didn't save the selvedge so I no idea what it was. I went to Strawberry Patches and explained the situation. Amanda told me that they hadn't had that fabric in a long time but she thought it was Windham's American Vintage line. I went home and googled it only to discover that it was out of print. Finally I searched quiltshops.com and found it at a little shop in the midwest. I was so relieved. I'm so happy with that choice for the binding.
Lastly, I toyed around with the leftover fabrics for pillow shams and here is what I came up with.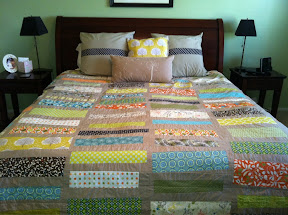 Now on to the next project.