This week, the boys and I had the chance to go to the beach with my mom. Sadly, Phil and my dad had to work so they couldn't join us. We've made the best of it. Yesterday, after we got here, we grabbed a quick lunch and headed to the beach. We had a great time digging in the sand and splashing in the waves. We also discovered an exercise ball that someone had partially buried, creating a fantastic trampoline. He was nice enough to let the boys bounce on it, which was hilarious.
In the evening, we headed in to Santa Barbara and parked by this really cool hippie van. The guy said we could take pictures for a donation "to keep the hippie rolling." We obliged. The boys were enthralled and wanted to disassemble his sculpture because so many cool cars, trucks, and trains were glued to his van.
The next stop was the carousel. The boys loved it. It was Jack's first ride and he was amazed and wanted to do it again. (Despite his expression in the picture.) Next, we played at a park shaped like pirate ship. We then went to dinner at an English pub and had fish and chips. We were all pretty tired after this and went back home.
Today, we headed to the zoo and had such a great time. The weather couldn't have been nicer. The zoo was a great size with just the right amount of exhibits. Jack loved the fish.
The boys also really liked the elephants.
A highlight for my boys is always the goats and today was no exception. Ryan did say that a petting zoo should not be like this one; they were not allowed in like all the other petting zoos we had been too. He said the rules were, "being naughty to him," and proceeded to try and find an unlocked gate. After while, he was entertained with the goats and told me that he had asked a pig something and that it had nodded "yes" to him.
My one disappointment today was that I didn't snap a picture of Ryan feeding the giraffes. It was so cool and I got so excited that I didn't get my camera out. It was truly the highlight of our visit.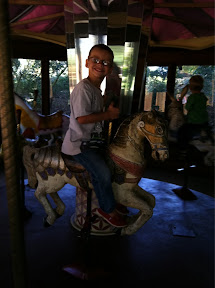 After the giraffes, we found another tiny carousel to ride and the boys really liked it. Even though it was so much smaller, I think they had just as much fun as yesterday. Tomorrow our vacation comes to a close. We've had such a great time. I'll be looking forward to our next visit.